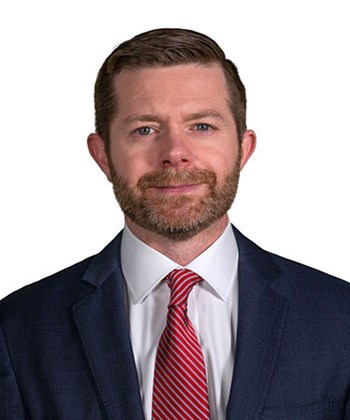 Specialties
Development, Land, Retail
Scope of Experience
Trey is a Senior Advisor who specializes in retail land sales. Trey's fifteen years of experience make him a valuable resource to his clients in the hospitality, retail, and multi-family industries. Trey holds a Masters in Real Estate Development, recently received his CCIM designation, and has extensive experience in commercial real estate, land development, and research analysis.
Since joining NAI in 2008, Trey has completed $196 million in closed transactions. The most notable being the $31 million sale of The Lofts in Pigeon Forge, a $14.5 million assemblage for a Publix anchored shopping center, the $10.5 million sale of Belle Island Village, and a ground lease between his client, a third-party developer, and Dave & Buster's. All of these transactions are in Sevier County.
Trey strongly believes in the practice of multidisciplinary thinking in real estate, and it shows in his work style. Complicated deals and transactions often require a creative and multi-angled approach. This mindset and unique ability enable him to bring challenging projects across the finish line.
Background & Experience
NAI Koella | RM Moore
Senior Advisor
January 2017 - Present
Knoxville, Tennessee Area - including Sevier, Blount, and Knox Counties
Commercial Real Estate Specialist
NAI Knoxville
July 2008 - January 2017
Knoxville, Tennessee Area
Since joining NAI Knoxville in 2008, Trey has been directly involved in the sales, leasing or modification of approximately $114 million dollars in closed transactions. He compiles annual market reports and presents his findings to various groups of investors, economic development entities and municipalities across East Tennessee. Specializing in Seller Representation, Trey's multidisciplinary background and his ability to view projects from an owner's perspective have allowed him to be successful in various economic conditions.
The Reserve at Lake Keowee
Land Development Intern
September 2006 - December 2006
Sunset, SC
Shadowed the director of development for The Reserve at Lake Keowee, a 4,000 acre Master Planned Community with 30 miles of coastline on Lake Keowee that includes a Jack Nicklaus Premier Golf Course with lot prices ranging from $250,000 to $750,000. Worked in the field with project engineers and surveyors determining the best location for future roads, sewer plant spray field additions and lot placement for future phases of development. Performed financial cost/benefit analysis of various project options including deal structuring, product selection, and road placement.
Clemson University Center for Real Estate Development
Research Analyst
August 2005 - May 2006
Clemson, SC
Performed feasibility studies: market analysis, due diligence, capital budgets and pro formas for several projects across the state. Compiled a market overview for an 800 acre Master Planned Community, located in Simpsonville,SC for the property owners with emphasis placed on price points and absorption estimates in addition to product mix recommendations. Performed public feasibility study for a $32 million dollar proposed redevelopment projecton 30 acres of land near downtown Anderson, SC.
Education
2007 - Clemson University, Master of Real Estate Development (MRED)
Clemson, SC
Joint degree program: College of Business and College of Architecture
Two Year Interdisciplinary Program with Classes in MBA, Finance, Law, Construction Management, Architecture, City and Regional Planning, and Real Estate Development
2004 - University of Tennessee, Bachelor of Science in Business Administration (BSBA)
Knoxville, TN
Majored in Finance
2000 Gatlinburg-Pitman High School
Gatlinburg, TN
Professional Associations & Designations
International Council of Shopping Centers (ICSC)
Urban Land Institute (ULI)
Certified Commercial Investment Member (CCIM)
Transaction History
The Lofts in Pigeon Forge
Pigeon Forge, TN
November 2021
Size: 204 Units
Deal value: $31M
This multifamily project involved 204 existing multifamily units plus development land approved for an additional 224 units, the package was purchased at a total sale price of $31 million. After marketing the asset to qualified multifamily investors on a national level, we received multiple offers. Ultimately, the contract was awarded to a buyer group out of New York, proving that we can effectively market our properties to a national pool of buyers.
Gateway Development Site
Gatlinburg, TN
December 2020
Size: 7.42 acres
Deal value: $7.95M + assumption of ground lease
Represented the seller, Community Trust Bank, in the Gateway Gatlinburg Development Site sale, the first property on the right as you enter Gatlinburg traveling from Pigeon Forge. The site has approximately 1,155 feet of Parkway frontage, in addition to red-light access at the intersection of Parkway and Dudley Creek. The buyer is investing $100 million in a new 300-room Delta Hotel by Marriott with a rooftop bar, a lobby-level restaurant and lounge, an outdoor pool, and 16,000 square feet of banquet and meeting space.
Publix Assemblage
Pigeon Forge, TN
January 2015
Size: 8.3 Acres
Deal Value: $14.5M
Assembled an 8-acre site on the Parkway for development of a Publix-anchored shopping center. This project involved 11 separate transactions -- deals with eight fee simple owners and three leaseholders -- and took approximately 15 months from initial conversations to deal closing. Project received $3 million of incentive financing from the City of Pigeon Forge and resulted in my recognition as CCIM's Retail Broker of the Year.
Dave and Buster's
Sevierville, TN
April 2019
Size: 6.3 Acres
Deal Value: $25M
Represented the landowner on a two-part transaction. Negotiated an LOI with Dave & Buster's Corporate for a 20-year lease valued at $25 million. Subsequently negotiated an approximately $8.4 million deal with Johnson Development to ground lease the underlying land and construct the restaurant property, as outlined in the LOI.
Fairfield Inn & Suites
Pigeon Forge, TN
August 2017
Size: 2.5 Acres
Deal Value: $1.58M
Represented landowner on the sale of 2.5 acres for development of a Fairfield Inn. I have represented the same owner on multiple transactions, including the sale of land for development of a Hilton Garden Inn and the sale of two additional sites for hotels that have not yet been identified.
Belle Island Village
Pigeon Forge, TN
November 2011
Size: 17.45 Acres
Deal Value: $10.35M
One of two brokers who represented Regions Bank in selling the retail portion of Belle Island Village, a specialty entertainment project that was partially completed before being acquired by the lender at a foreclosure sale. The project was sold to a local developer and is now home to attractions including The Great Smoky Mountain Wheel, Paula Dean's Family Kitchen, Margaritaville and Build-A-Bear Workshop. This project was awarded the Deal of the Year award winner in 2011.
Pizza Hut
Pigeon Forge, TN
November 2018
Size: 4,380 SF
Restaurant on 0.39 Acres
Deal Value: $1.425M
Represented landlord on the sale of an NNN-leased building on the Parkway whose tenant is the largest Pizza Hut franchisee in the country. Negotiated a 6.71% cap rate despite having only three years remaining on the base term.
Strategic Clients
Braden's Lifestyle Furniture
CHM
Collier Restaurant Group
Green Bank
The Hutton Company
Key Safety Systems
Kinsey Probasco Hays
Mountain Commerce Bank
Pilot Travel Centers
Region's Financial
RESIGHT Investors
Shae Design Studio
SunTrust Financial
Tennessee State Bank
World Choice Investments