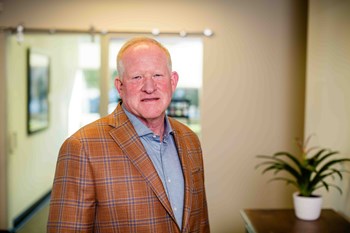 Specialties
Investment, Office, Retail
Background & Experience
Roger Moore, Jr. is a Principal Broker and serves as President of NAI Koella | RM Moore.
With more than 25 years as a real estate agent and broker, Moore has amassed an impressive amount of experience in the sales and leasing of commercial properties. Roger began his career in the industry in 1980 as a licensed realtor selling real estate for his father, who, at the time, had the largest real estate company in the state of Tennessee.
In 1995, following in his father's footsteps, Roger carried on a family tradition when he opened R.M. Moore Real Estate Company as a full-service firm and focused solely on commercial real estate.
R.M. Moore Real Estate was named on the INC 5000 list of the fastest growing companies in 2007 and 2008 and in February of 2007 was recognized in the Top 101 in Commercial Real Estate by Business TN Magazine. Roger was also affiliated with Sperry Van Ness (SVN), where his transactions consistently ranked him in the Top 20 of SVN Advisors and in the SVN Partner's Circle for achieving highest total volumes amongst 900+ Advisors.
In 2017, Roger combined business with that of Maribel Koella of NAI Knoxville to form the largest commercial real estate group in East Tennessee, now known as NAI Koella | RM Moore.
Roger takes a very active role in the everyday functioning of the company. Not only does he assist in managing the firm and its many employees, but he also specializes in providing commercial property, tenant acquisition, and property management services through offices in both Knoxville and Sevierville, Tennessee.
Professional Associations & Designations
Professional Designations:
Society of Industrial and Office Realtor (SIOR)
2018 CCIM Broker of the Year Award
Previously Licensed Real Estate Broker in both Kentucky and North Carolina
Current and Past Affiliations:
Leadership Knoxville
Farragut and West Knoxville Rotary
Knoxville Chamber of Commerce - Past Board Member
Harmony Adoptions - Past Board Member
Foster Care - Past Board Member
Concord Sertoma - Past President
The Young Entrepreneurs Organization
Boy Scouts of America
American Red Cross - Past Board Member