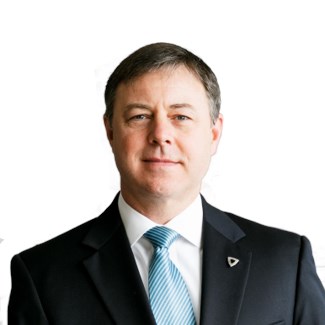 Specialties
Industrial, Investment
Scope of Experience
James Roberson is a Senior Advisor with NAI Koella | RM Moore and specializes in the sale and leasing of industrial and commercial real estate. Thinking outside the box comes naturally to James, as does his ability to maximize opportunities for his clients. But, it's his attention to the details that have made all the difference for his longstanding, and dedicated clients.
Originally from Greenville, South Carolina, James has called East Tennessee home for more than 18 years. During this time, he has gained extensive market knowledge of Knoxville and the surrounding areas, which informs his guidance for each, and every client. With his previous experience in land and resource management, James can envision the broad range of potential for properties, both vacant and occupied.
Having been involved in many large manufacturing focused projects, James is proud to have played a role in many deals that have brought employment opportunities to the area, including: Lifetime Products, Fresenius, Morgan Olsen, and Duraline.
In addition to James' extensive experience in this market, he is also dedicated to continually improving his professional education, as evidenced by his prestigious designations with the Society of Industrial and Office Realtors (SIOR), and as a Certified Commercial Investment Members (CCIM). He has accrued quite a few professional accolades as well, including being named the Industrial Broker of the Year by Knoxville Business Journal, four years in a row.
Aside from his professional endeavors, James is dedicated to his family, and community. Having been married to his wife for more than 20 years; they, along with their two children enjoy reading, the great outdoors, and being involved with creating a true community impact with their church family. For a number of years, James has also been a board member of The Salvation Army, Great Smoky Mountains Conservation Association, and finds fly-fishing is one of his favorite past times.
Industrial Broker of the Year - Knoxville Business Journal | East TN CCIM
CoStar Power Broker
Background & Experience
NAI Koella | RM Moore Knoxville, TN Senior Advisor, 2004 - Present
McCarlton Partners, Ltd. Cashiers, NC Natural Resource Manager, 1998 - 2004
Timberland Management & Sales Greenville, SC Forester / Surveyor, 1996 - 1997
Education
Clemson University, Bachelor of Science
Society of Industrial and Office Realtors (SIOR), Designee
Certified Commercial Investment Member (CCIM), Designee
NAI University
Professional Associations & Designations
Middle & East TN Chapter SIOR - Member & Designee,
East TN CCIM Chapter - Past President, Member & Designee,
East Tennessee Industrial Council (ETIC) - Past President & Member,
Tennessee Economic Development Council - Member,
NAI Industrial Council - Member,
NAI Investment Council - Member,
Knoxville Area Association of Realtors (KAAR) - Member,
National Association of Realtors - Member,
Tennessee Association of Realtors - Member,
All Souls Church - Member,
The Salvation Army - Board Member,
Great Smoky Mountains Conservation Association - Board Member
Transaction History
Armstrong World Industries
Astec Industries, Inc.
Boeing Realty Corporation
Branch Banking & Trust Company
DHL
Dura-Line
FedEx Ground Package Systems, Inc.
G&K Services, Rental Uniform
HD Supply
Henry Schein
Hilliard Lyons
Kenco Group, Inc.
Lexington Corporate Properties Trust
Lifetime Products
Morgan Olson
Panasonic
Patterson Dental Supply
Penda Corporation
Pepsi Bottling Group
Rexnord Industries
SunTrust Bank
Textron Financial
The Salvation Army
The Tranzonic Companies
USEC